Sarah Urton, DPM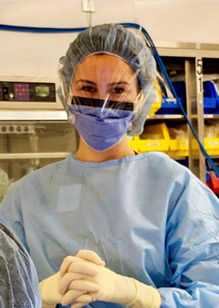 Sarah Urton, DPM
Dr. Urton's passion for physical activity and health led her to study Human Kinetics at the University of British Columbia. She earned her Bachelor of Human Kinetics in 2010 with a focus in Clinical Exercise Physiology. Before medical school, Dr. Urton volunteered with health organizations around the world. This work brought her to Spain, Mexico, Romania and Haiti and instilled a desire to provide patient care globally.
In 2011, she moved to the United States to attend the California School of Podiatric Medicine in Oakland, California. During this time Dr. Urton completed month long externships in: Boston at Cambridge Health Alliance, Columbus at Ohio State University, Chicago at Presence Saint Joseph Hospital and Vancouver at Vancouver General Hospital. She graduated with a Doctor of Podiatric Medicine degree in 2015.
In June of 2019, Dr. Urton completed a three-year surgical residency with training in elective foot surgery, trauma, microscopic nerve repair, ortho-plastic surgery, diabetic limb salvage and external fixation at AMITA Saint Joseph Hospital in Chicago, Illinois.
Dr. Urton is Board Certified by the American Board of Podiatric Medicine. Additionally, she is a member of both the British Columbia Podiatric Medical Association and the College of Physicians and Surgeons of British Columbia.
Born and raised in Vancouver she is excited to be home and practicing in her community. Outside of work she loves running, art, film, yoga and traveling.
Certifications
Fellow, American Board of Podiatric Medicine
Positions and Medical Affiliations
College of Physicians and Surgeons of British Columbia: Member
British Columbia Podiatric Medical Association: Member
American Podiatric Medical Association: Member
Speaking Engagements
BCPMA AGM September 2019: Advancements in the Lapidus procedure
16th Annual UBC Living Well With Diabetes CPD Conference: Diabetic foot education and guidelines